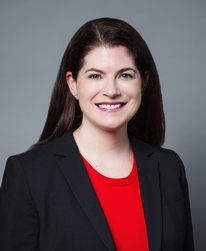 EDUCATION
Georgetown University Law Center, J.D.
University of California, Berkeley, B.A.
ADMISSIONS
New York
California
CONTACT INFORMATION

V-Card
Lindsay E. Hogan has experience in art law and complex commercial litigation, representing corporate and individual clients in federal and state court and in arbitration proceedings. As part of Grossman LLP's art law practice, Lindsay counsels clients on litigation and settlement strategies for the acquisition, retention, and disposition of fine art. Lindsay also advises clients on a variety of other business-related issues, including intellectual-property and employment matters.
Representative matters include:
Representing corporation seeking to recover an artwork stolen from its corporate collection.
Representing a large investor group victimized by a $100-million Ponzi scheme related to an alleged ticket resale business.
Representing broadcaster in connection with Federal Communications Act, Digital Millennium Copyright Act, and Copyright Act claims.
Representing an artist in a dispute regarding copyright and trademark claims against a Fortune 500 company related to an international advertising campaign.
Obtaining complete dismissal for one of the country's leading art galleries against a lawsuit by a billionaire art collector arising out of the consignment and $12 million sale of a Gilbert Stuart full-length George Washington portrait.
Representing prominent artist, Peter Beard, and his studio in multiple disputes concerning copyright and the ownership of artworks, including a successful summary-judgment decision in Beard v. Chase, 56 Misc.3d 1202(A), 63 N.Y.S.3d 304 (Sup. Ct. N.Y. Co. June 19, 2017), aff'd, 162 A.D.3d 533, 80 N.Y.S.3d 231 (1st Dep't 2018).
Representing an art gallery and an individual art collector in two separate federal litigations in connection with purchases of art stolen from the famed artist, Jasper Johns, by his former studio assistant.
Representing an artist seeking a declaration of his intellectual-property rights under federal Copyright law.
Representing an art collector in dispute concerning art-backed loans.
Representing multiple art collectors in connection with the bankruptcy of prominent Manhattan art gallery accused of fraud.
Advising company on employment policies in connection with the classification of individuals as independent contractors.
Prior to joining Grossman LLP, Lindsay was an associate in the Business and Commercial Litigation Department at Gibbons, P.C., where she represented hedge funds, banks, and broker-dealers in all aspects of litigation arising out of complex financial transactions, and before that she practiced at a prominent California law firm. Lindsay earned her law degree from Georgetown University Law Center, where she was a member of the Georgetown Journal of Legal Ethics, the Barrister's Counsel, Moot Court Division and participated in the Institute for Public Representation. Lindsay earned her bachelor's degree from the University of California, Berkeley.