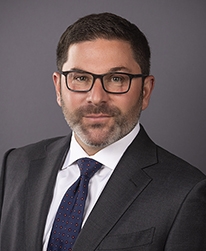 EDUCATION
University of Pennsylvania Law School, J.D.
University of Pennsylvania, B.A., cum laude
ADMISSIONS
New York
New Jersey
CLERKSHIP
Hon. Jerome B. Simandle (D.N.J.)
Judd B. Grossman
Founder and Managing Partner
CONTACT INFORMATION

V-Card
Judd Grossman is the Founder and Managing Partner of Grossman LLP. Judd's clients include high-net-worth individuals, art galleries and advisors, businesses, and institutions in a wide variety of matters, including art-related disputes and commercial cases. Judd has been consistently recognized by Chambers as one of the country's leading litigators in the field of art and cultural property law.
Securing plaintiff's judgment after 3-day bench trial in the Southern District of New York in a lawsuit seeking the return of a stolen American modernist painting to a major corporate art collection. See Abbott Laboratories v. Feinberg, et al., 18-cv-8468 (LGS) (S.D.N.Y.).
Obtaining a unanimous affirmance in the First Department Appellate Division for a collector seeking to reclaim a Marc Chagall painting that had been stolen by a Manhattan art gallery as part of a massive art-fraud scheme. See Silver v. Alon Zakaim Fine Art Ltd., 180 A.D.3d 467, 115 N.Y.S.3d 669 (1st Dep't 2020).
Achieving a summary-judgment victory in the Southern District of New York on behalf of a Manhattan art gallery in a title dispute concerning an Alexander Calder stabile, see Meaders v. Helwaser, 436 F. Supp. 3d 677 (S.D.N.Y. 2020), and successfully arguing the appeal in the U.S. Court of Appeals for the Second Circuit. See Meaders v. Helwaser, No. 20-730 (2d Cir.).
Obtaining complete dismissal for one of the country's leading art galleries against a lawsuit by a billionaire art collector arising out of the consignment and $12 million sale of a Gilbert Stuart full-length George Washington portrait.
Successfully representing buyers defrauded into purchasing stolen Jasper Johns artworks. See Equinox Gallery Ltd. v. Dorfman, 17 Civ. 230 (GBD), 2018 WL 745707 (S.D.N.Y. Jan. 25, 2018) (denying motion to dismiss federal RICO and fraud claims); Kolodny v. Meyer, et al., Case No. 14-cv-03354 (VSB) (S.D.N.Y.).
Obtaining total victory in lawsuit by Madonna against her former art advisor to enjoin sale of Tupac letter and other memorabilia. See Ciccone v. Gotta Have It! Collectibles, Inc., et al., Case No. 156454/2017 (Sup. Ct. N.Y. Co.).
Representing numerous art collectors and other entities in a series of lawsuits arising from an international art fraud, dubbed by ArtNews as "One of the Biggest Potential Modern Art Scandals."
Obtaining summary judgment for Peter Beard, and successfully arguing the appeal, in an action to recover three of the artist's original works. See Beard v. Chase, 56 Misc.3d 1202(A), 63 N.Y.S.3d 304 (Sup. Ct. N.Y. Co. June 19, 2017).
Representing Manhattan art dealer in a litigation with Universal Studios executive Ronald Meyer. See Meyer v. Seidel, et al., 20-cv-03536 (VSB) (S.D.N.Y.).
Representing Italian art book publisher in contract action against photographer James Nachtwey and defeating motion to dismiss the complaint. See Roberto Koch Editore Srl v. Nachtwey, Index No. 655813/2019 (Sup. Ct. N.Y. Co.).
Representing real-estate developers in a litigation involving a major mixed-use high-rise building located in Manhattan's Hudson Yards.
Prosecuting securities-fraud claims on behalf of investors in a $100-million Ponzi scheme. See Nagelberg v. Meli, et al., Case No. 17-cv-2524 (LLS) (S.D.N.Y.).
Successfully representing more than 10 victims of a massive art-fraud scheme in connection with state and federal civil, bankruptcy, and criminal proceedings.
Representing International Museum of World War II against Ronald Lauder in connection with claims concerning $25 million collection of World War II memorabilia.
Successfully representing national referral agency in a "bet the company" litigation concerning the employment classification of thousands of independent contractors.
Representing television personality in an employment-discrimination lawsuit against NBC. See Greenleaf v. NBCUniversal Media, LLC, et al., Index No. 651579/2018 (Sup. Ct. N.Y. Co.).
Counseling contemporary art museum concerning major Jean-Michel Basquiat exhibition.
Representing investment bank in connection with claims against a major technology company for payment of outstanding fees under an advisory agreement.
Advising prominent artists' foundations in connection with catalogue raisonné projects.
Successfully defending auction house in connection with the sale of forged artwork.
Litigating art-forgery case against the Knoedler Gallery arising from the $17 million sale of a counterfeit Jackson Pollock painting.
Representing prominent New York art gallery in a lawsuit against a Carnegie Museum trustee arising from the sale of a Peter Doig painting.
Judd has consistently been named a New York "Super Lawyer" for Litigation, in addition to recently being recognized by
Chambers
as one of the country's leading litigators in the field of art and cultural property law. Judd formerly served as the Chair of NYCLA's Art Law Committee, and he is a member of the New York City Bar Association's Art Law Committee. And he regularly is invited to speak on art-law topics, including at the University of Pennsylvania Law School, the NYU Art Crime Symposium, NYCLA's Art Law Day, and the 2018 International Bar Association annual conference in Rome, Italy. Judd regularly offers commentary regarding art-law matters on television and in major news publications, including the New York Times, the Wall Street Journal, CNBC, and the Art Newspaper, among many others.
Judd previously was Counsel in the securities-litigation practice group of O'Melveny & Myers LLP, before joining the Dontzin Law Firm LLP, an international litigation boutique. He graduated
cum laude
from the University of Pennsylvania, where he also received his law degree. Following law school, he served as a law clerk to the Hon. Jerome B. Simandle, U.S. District Court for the District of New Jersey.
Judd is on the board of Lincoln Center Education, and previously he served on the Board of Directors of Urban Arts Partnership. He lives in Manhattan with his wife, Meredith, who is an attending physician in the Pediatrics Department of Mount Sinai Hospital, and their two daughters.